12pm and 5.00pm  from 6 years old
Rates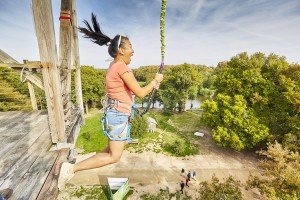 Jump in the air !
Quick jump is a progressive jump. Discover the sensation of jumping from the top of a tower
From 6 years old and 20kg
For your events
Organise your events on the parc.
Celebrate your birthday or stag party at Le Grand Defi , your jump is free if you and your friends are playing paintball, lasertag or treeclimbing.
You may also like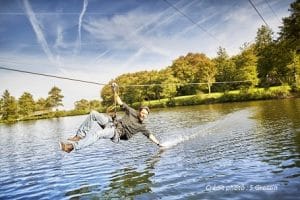 Come and enjoy nature in the treetops !
Open since June 25, 2010, « Le Grand Défi » parc count 28 courses for all levels in 2018. Among them, five for children from the age of 2 years old, more than 26 zip lines that pass over the lakes, which are included in the course (no extra charge) and two extremely difficult black courses! With family, friends or alone, discover or rediscover the practice of tree climbing in a family atmosphere.
All courses are equipped with a continuous belay system. This system allows us to never come off while on any of the courses. TREE TOP TRAIL
From 2 years
33 courses to discover the trees in Vendée