"Le Grand Défi" offers customized team building as you wish!
"Le Grand Défi " – "Paintball Loisir" is also open to companies. Whether in the context of seminars, day of integration, internship cohesion, team-building/incentive activities or motivation of the sales force, no doubt one day in Nature's company is a great way to strengthen ties within a team!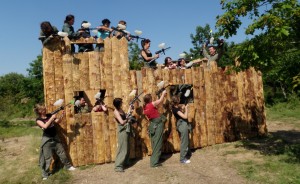 Decision making, active participation …
We offer activities that require decision making, active participation, working alone or in groups … All this to help you discover the influence of solidarity or individualistic behavior on the performance of your team, and therefore your business.
An day outdoors with colleagues is a great way to ease tensions within the group and strengthen the ties between individuals! Your team will leave stronger and more united, ready to move forward!
We work in conjunction with our many partners (accommodation, restaurants, leisure …). Depending upon your request we can organize your stay.