Come and enjoy nature in the biggest tree climbing park in the world!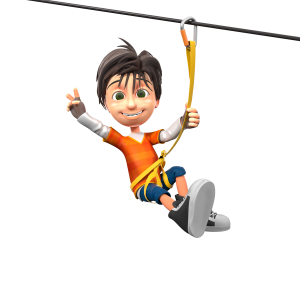 Open since June 25th, 2010, « Le Grand Défi » parc counts no less than 34 courses for all levels in 2020. Among them, five for children from the age of 2, 26 zip lines that pass over the lakes, which are included in the course (no extra charge) and three extremely difficult black courses! With family, friends or alone, discover or rediscover tree climbing in a family atmosphere.
All courses are equipped with a continuous belay system. This system allows you to never come off during any of the courses.
VideoBuy your tickets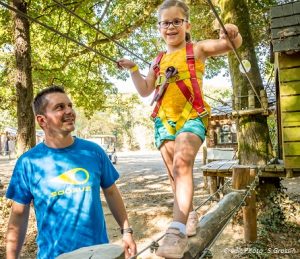 Our yellow courses "Pitchoun"
From 2 years old
7 courses
Courses for the younger ones, unique in Vendée. Children move along with their parents and under their responsibility. Height: 60cm to 2m. The little ones can discover the joys of tree top trailing: monkey bridges, ziplines, sledding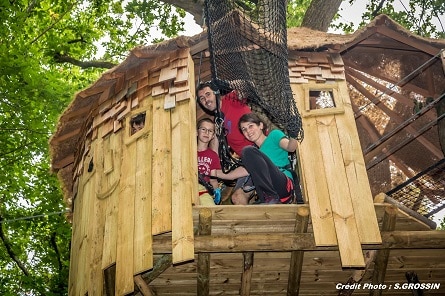 Our green courses "Family"
From 6 years old
10 "Family" courses
3 "Zip" courses
These courses allow the whole family, children and adults, to experience tree top trailing. 6 mega zip lines over the lakes make 2 of these courses thrilling! Unique in Vendée!
Our blue courses "Adventure"
From 9 years old
7 courses
They are intended for confirmed tree top climbers. These courses allow you to travel through the tree tops and across the lakes via our mega zip lines.
Our red courses "Sportifs"
From 12 years old
4 red courses
These courses are designed for athletes in top shape, thrill seekers, with challenges and mega zip lines over the lakes.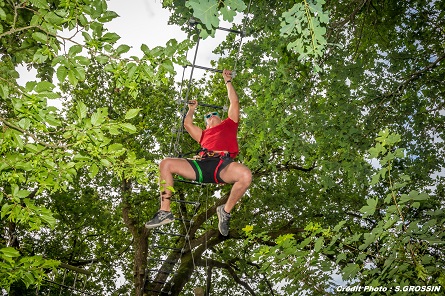 Our black courses "Défi"
From 14 years old
3 courses
These courses are for climbing specialists who do not have vertigo. Many challenges such as Tarzan jumping or surfing. Check out the view of the park from 20 meters high. Casual sport practitioners, beware!
26 mega zip lines over lakes
From the age of 8, the adventure seekers of the park have access to mega zip lines over lakes.
Some at scary heights that will allow you to skim the water at full speed. Be careful not to end up soaked!
YOU MAY ALSO LIKE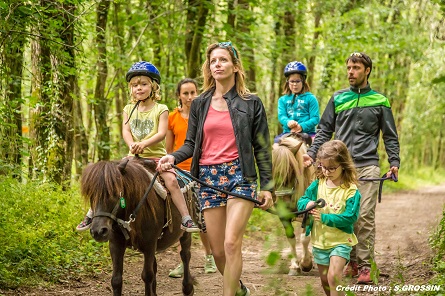 Pony rides for children from 2 years old
On the park "Le Grand Défi", children can choose their activities : tree top trails from 2 years old, paintball from 6 years old. Children can also go on a pony ride and can choose their steed: Double Pony, Shetland,… TREE TOP TRAIL
From 2 years old
34 courses to discover the trees in Vendée