School groups
Le Grand Défi – Paintball Loisir  is already working with several schools! In Vendée or in the neighboring departments, many schools, colleges and universities turn to us, either through boarding trips, year-end trips or educational outing.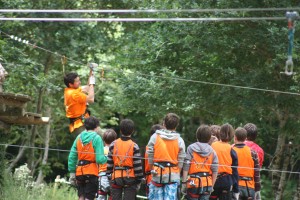 The tree climbing
The Grand Challenge is a palce for entertainment and unique learning through its 20 courses of progressive difficulty. Suitable for ages (from 2 years) and children's fitness, they enable a real awakening of the senses while developing motor skills. The encounter of new situations allows transcendence. Our educational activities are of interest both physically (learning gestures, balance, environment management) and mental (reflection, self-control) and in terms of the discovery of the forest environment. All operators who work in the Grand Défi hold CQP OPAH:  Certificate of Qualification of Professional Operators of Acrobatic courses at height.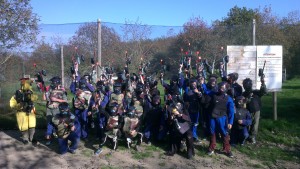 Fun paintball games
Paintball Loisir is also for schools! We have always wanted to develop paintball in a fun , mixed, collective and strategic way, with many original games. All games are supervised by referees guarantors of the proper conduct of the game and the atmosphere on the field. Paintball can serve as targets for young people, such as citizenship training (team spirit, mutual aid, support, solidarity), autonomy (decision making, game management and equipment) and safety (compliance with rules and regulations).
Fun and educational activities
Le Grand Défi has 4 orienteering courses of progressive levels. The objectives of these courses is for children and teenagers to move and locate themselves in a forest environment. They can also be considered a sport. A trip to Le Grand Défi can be a way to discover new discipline such as Disc Golf. An 18-hole course that is located on the park.
Student trips
Whether it's a game of paintball, having fun on our tree climbing, discovering disc golf or competing on our orienteering courses, Le Grand Défi can organize your integration days, year-end parties, …